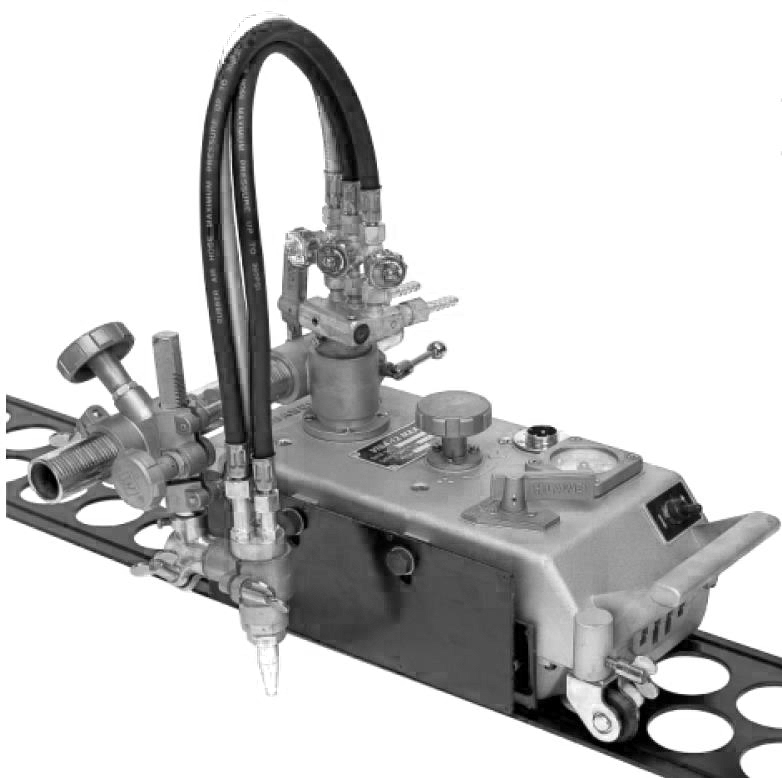 STRAIGHT CUTTERS
coming soon…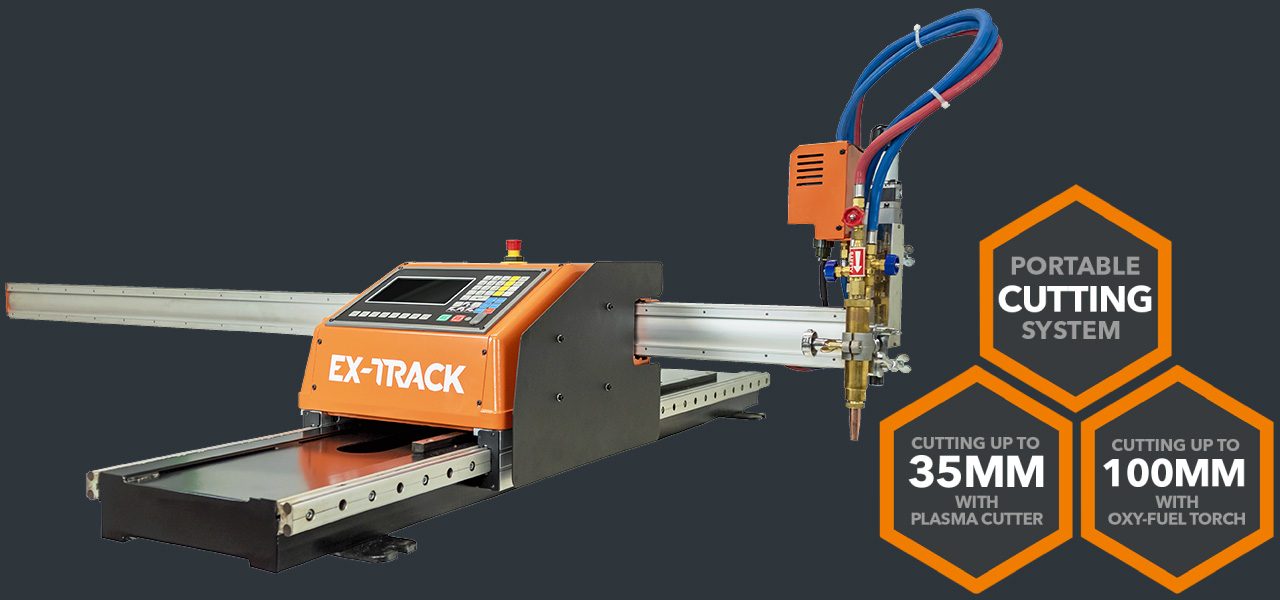 EX-TRACK®CNC CUTTING SYSTEM
PORTABLE CNC Cutting system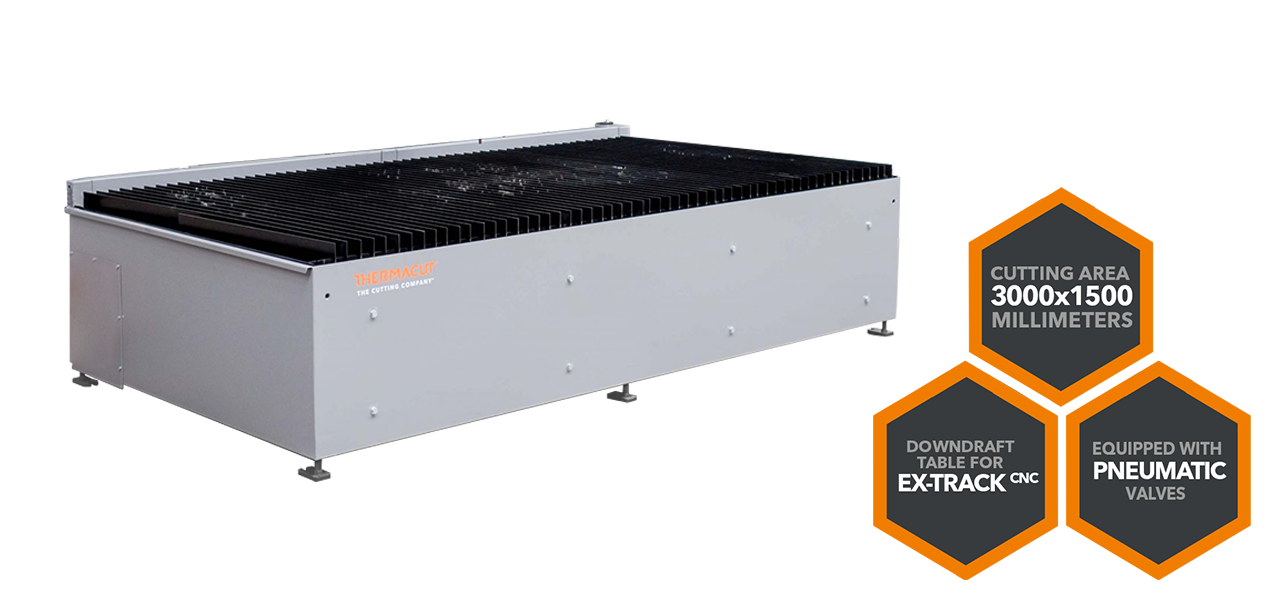 Cutting table for EX-track
®

CNC
easy to install, maintain and energy efficient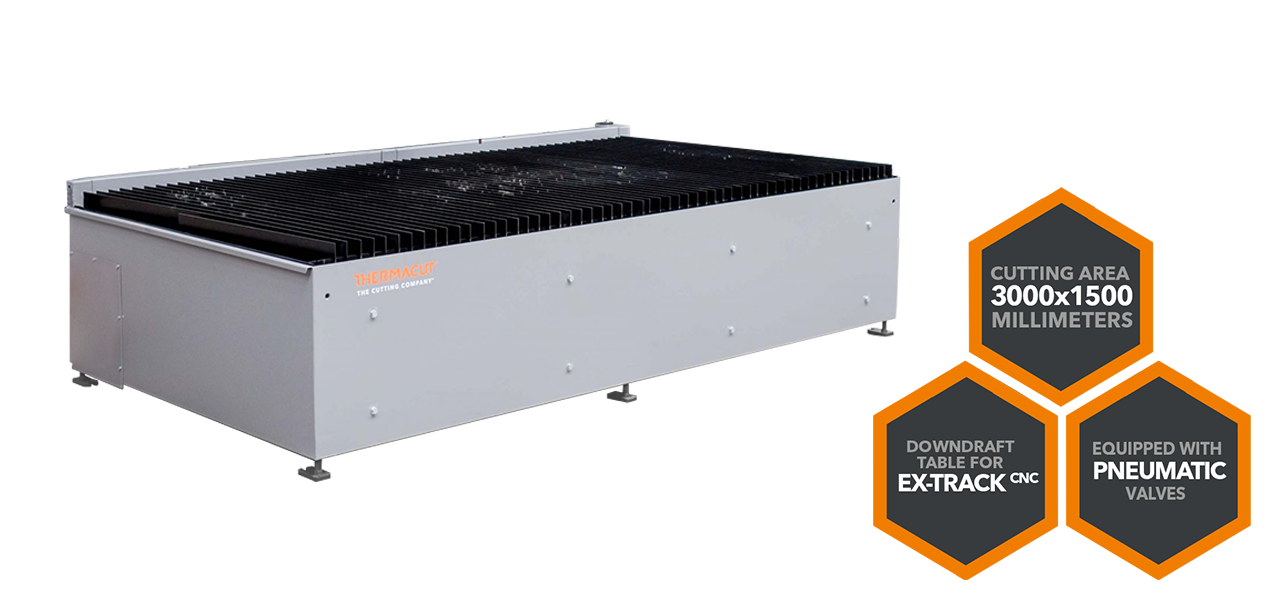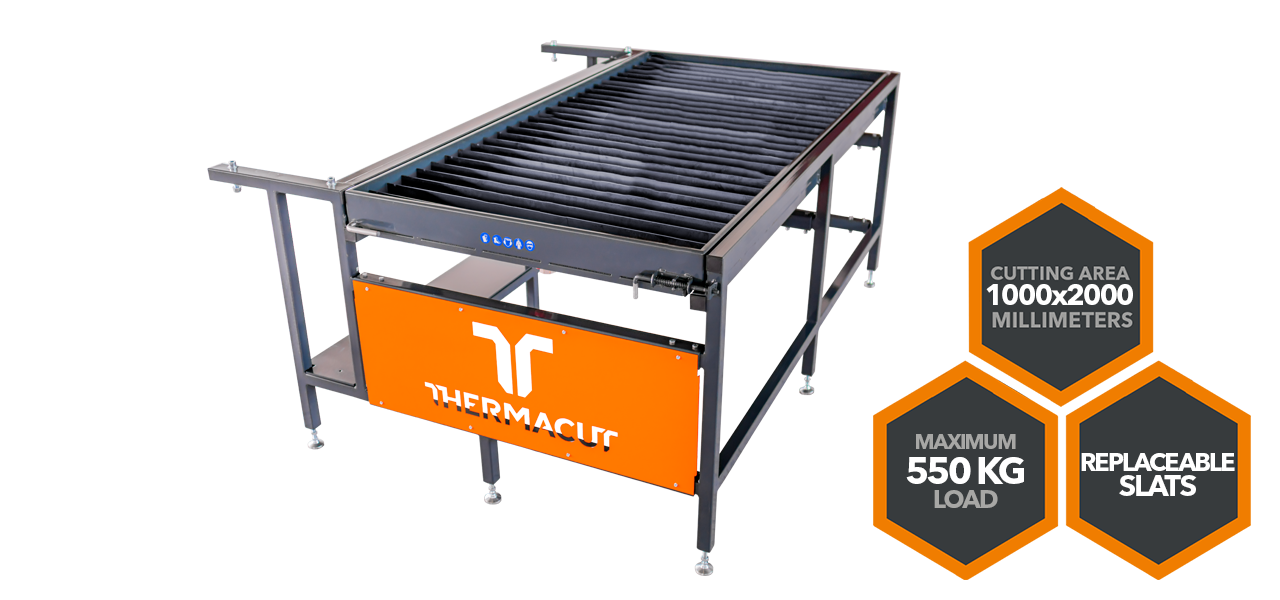 EX-TRACK
®

WATER TABLE 1000 x 2000 MM
Smaller, but fully effective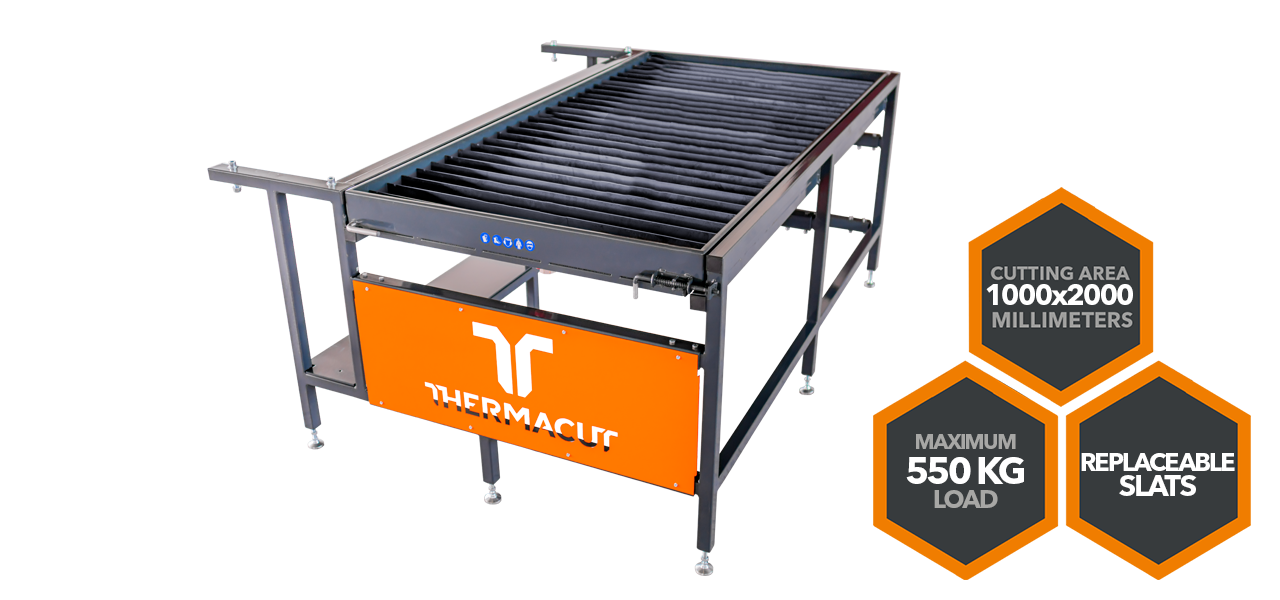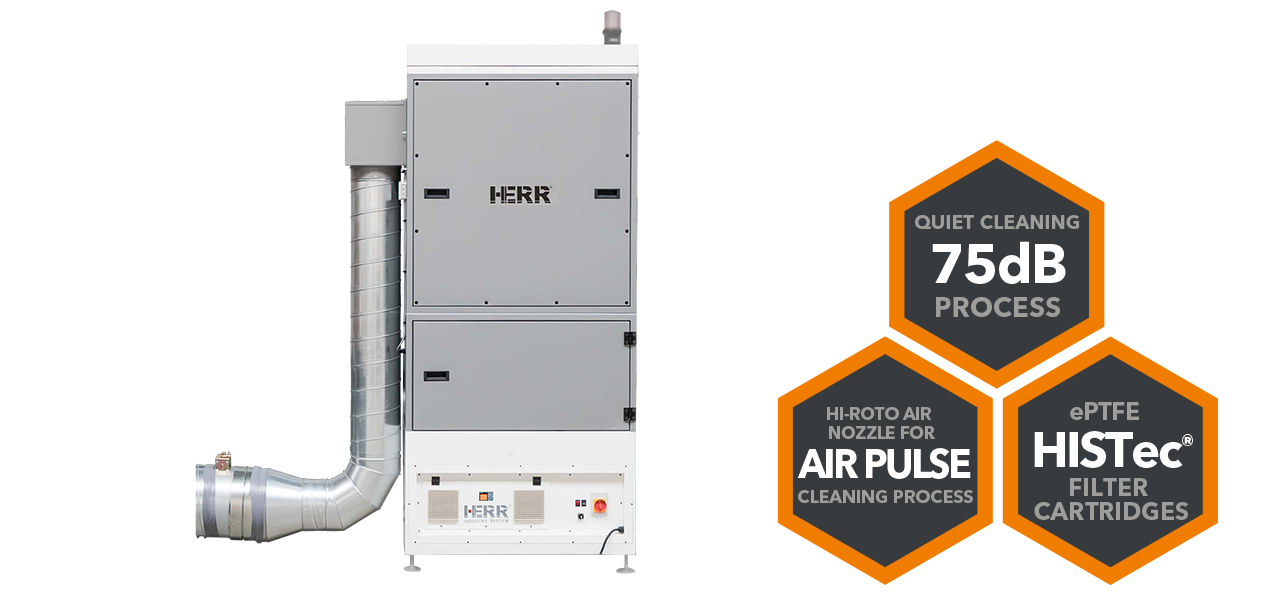 Central extraction system
extremely compact and light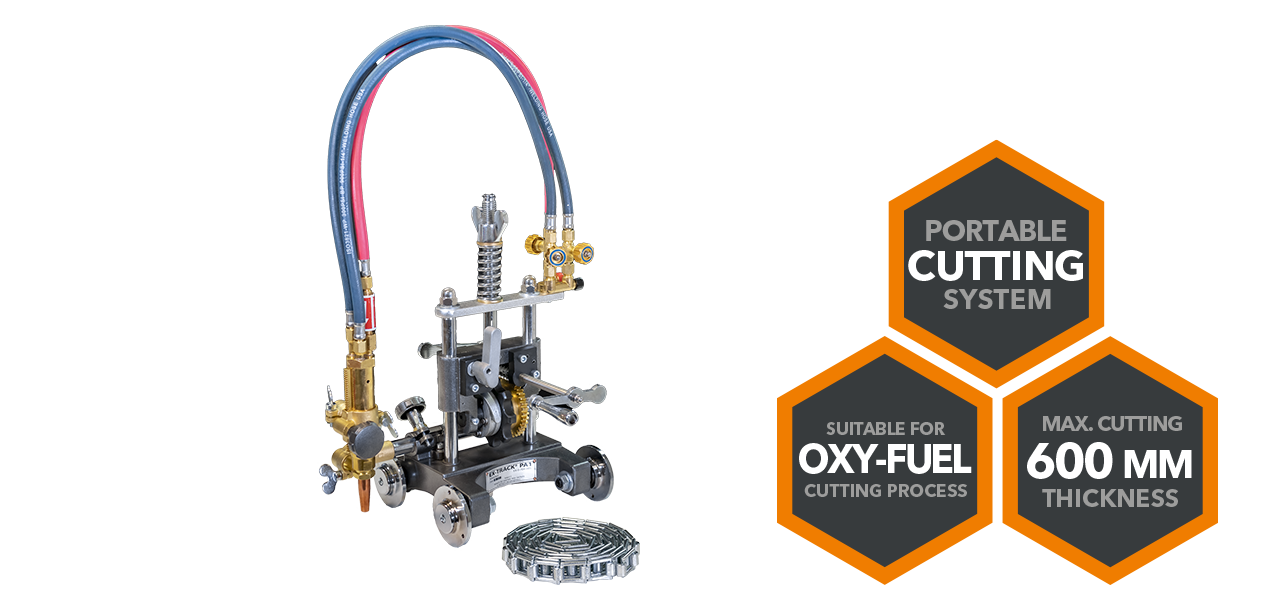 SOPHISTICATED PORTABLE PIPELINE CUTTING SYSTEM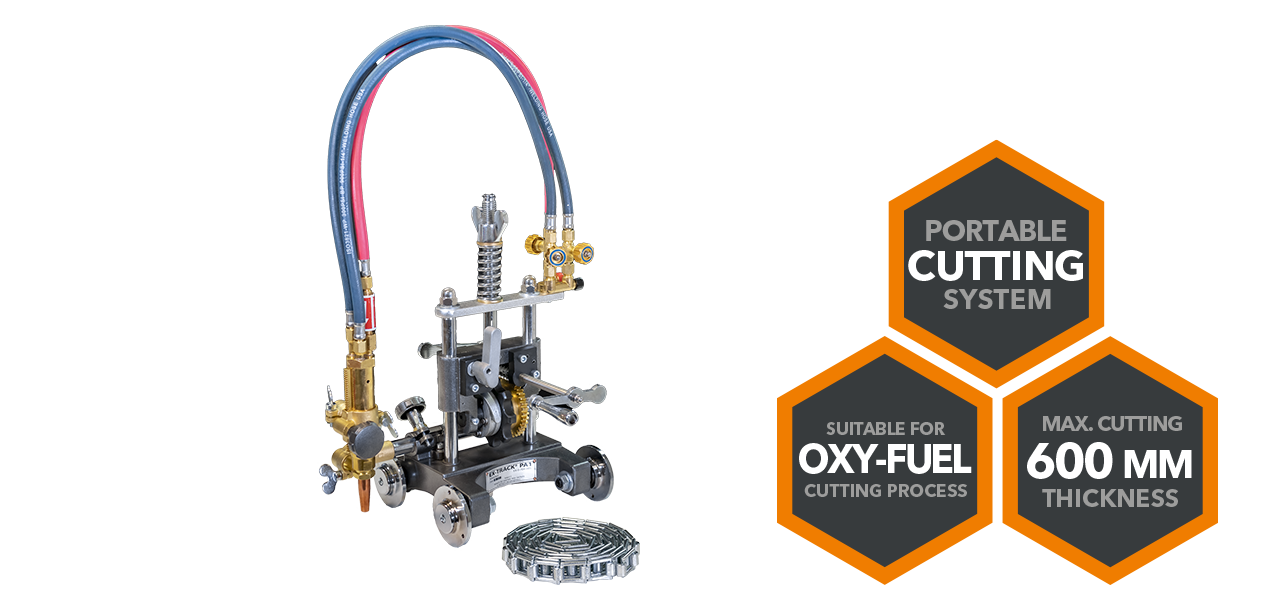 Say hello to the new EX-TRACK®CNC, a compact track-mounted oxy-fuel or plasma CNC profile cutting system that is lightweight, portable, and economical. The EX-TRACK®CNC is the first motor-driven model in THERMACUT's brand-new "Value Series" of CNC profile cutting...
DECLARATION OF CONFORMITY:
EX-TRACK®CNC
FAQ
Have a question? You can find the answers for the most common questions asked by our customers.
What is the EX-TRACK®CNC portable system?
The EX-TRACK®CNC Cutting System is the latest generation of high precision, programmable and portable cutting systems designed for use in the workshop or on site.
The system has a similar functionality to fixed table-type equipment fitted with a large gantry. The EX-TRACK®CNC system is fitted with an oxy-fuel cutting torch, a plasma cutting torch, or both.
The CNC function enables the system to cut complex shapes with high accuracy and repeatability, and there is also a manual cutting function for simpler applications. The system is transportable, so it can be easily carried by two people to the job site.
The EX-TRACK®CNC System is simple and easy to use and is fitted with a 7-inch high-resolution LCD display. It can be manually programmed, and it is able generate its own programs from a library of common shapes. Alternatively, programs can be loaded through the USB port from off-line programming software. AutoCAD parts drawings are stored directly in DXF file format.
Features:
Arc voltage control
Corner speed control
Kerf compensation with kerf check
Built-in library of 50 shapes
USB port for easy program loading
Two torches can be placed on the arm simultaneously (easy for changing applications)
Jump-to any program line or pierce point within a program or nest
Pre-tracing of the program sequence before cutting to quickly check of cut shape and its alignment on the plate
Convenient program interrupt and resume capability
Simple EIA programming (M- & G-Code)
Where we can use the EX-TRACK®CNC portable system?
The system has been designed for industry-wide use:
Petrochem
Shipyards
Wind turbines
Off/on-shore
Pressure vessel manufacturing
Sheet metal shops
Welding schools / training centers
As a portable system at a bigger production facility or on-site at a construction zone
System parts description — What is included in the package?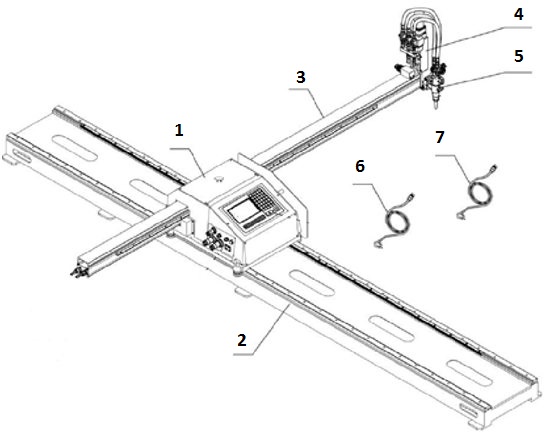 EX-TRACK®CNC unit
Longitudinal guide rail (rails)
Traverse guide rail (arm)
Torch height controller incl. gas console
Oxy-fuel torch
CNC cable (6 m / 19.6 ft)
Power cord (3 m / 9.9 ft)
Oxy-fuel starter kit + basic tools (not shown)
FastCAM software (not shown)
EX-TRACK®CNC operator manual (EN) (not shown)
Could we use the EX-TRACK®CNC portable system with another brand of power supply?
Yes, you can, but it is not recommended. You have to ensure divided arc voltage in the ratio 50:1 for the EX-TRACK®CNC unit.
Please ask your local plasma supplier for support — how to interface another brand of power supply to the EX-TRACK®CNC.
Can I connect a power supply with higher cutting current than 105 A?
No, the EX-TRACK®CNC can only carry the FHT torch, and it is only capable of up to 105 amps. and the diameter 35 mm. Larger plasma systems use a much larger, heavier torch.
Can I interface a plasma power supply with high frequency ignition?
NO! All plasma systems that use high frequency (HF) ignition cannot be used. It may cause permanent damage to the EX-TRACK®CNC and may void the warranty!
Can I change the language? What languages are installed in the CNC unit?
Yes, you can change the language. Just press buttons in the combination G+G+3, go to "Language" using the arrows, press the Enter button, scroll through the list of languages by using the PgDn or PgUp buttons and confirm the selected language by pressing Enter.
Installed languages are: English, Russian, Spanish, French, Czech, Slovakian, German, Romanian, Norwegian, and Chinese.
English is the selected language when the unit is shipped.
What are the Warranty terms and conditions?
The EX-TRACK®CNC Cutting System comes with 12-month warranty coverage against manufacturing defects. It is valid only if the system has been used and maintained in accordance with the instruction manual. The warranty is valid from date of invoice, and is not transferable. See the exact terms and conditions of the warranty on the Bill of Sale or Invoice.
Can the track length and width be extended to get more than 3000 mm of travel? Can I order EX‑TRACK®CNC with a larger/smaller cutting area?
Not yet. Right now we are offering only 1525 x 3050 mm.
How many torches can I have on the EX‑TRACK®CNC? Could I use them together simultaneously?
The EX‑TRACK®CNC can carry one plasma torch and one oxy-fuel torch at the same time. You may purchase the machine with both an oxy-fuel torch and a plasma torch, but you have to manually swap the torches in the torch holder when changing from one process to the other.
What kind of torch height control is there for plasma or oxy-fuel?
The EX-TRACK®CNC comes standard with a motorized torch lifter and arc voltage height control for plasma cutting. It does not have an automatic height control for oxy-fuel cutting; the torch height has to be regulated manually from the CNC.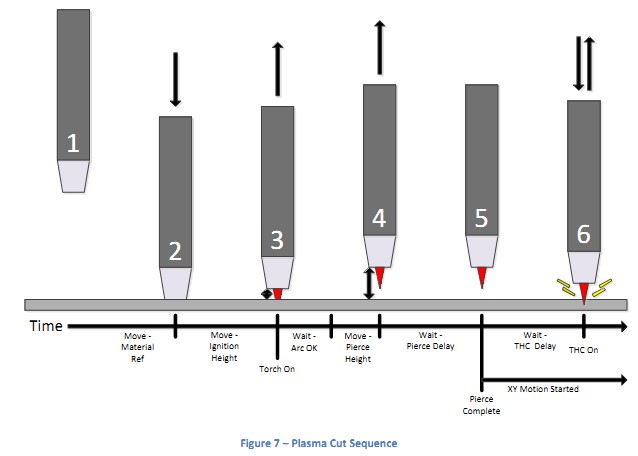 Does the EX-TRACK®CNC include nesting software?
Yes, basic nesting software is included. It is called FastCAM®. It is full software that includes CAD, Manual / Auto nesting and a CNC code generator. As many computer magazines offer free full-version software but limited support, mainly by the software company, we decided to offer a full package including the software. All support for this software is provided online and only by FastCAM®, not THERMACUT®.
Which program file format does the CNC unit require for proper operation?
EX-TRACK®CNC requires ".TXT" or ".CNC" file formats.
How do I transfer part programs or nests into the CNC?
The EX-TRACK®CNC has a USB port for easy part program transfer.
Using this USB port, it is possible to:
Load the drawings from a USB memory stick to the CNC
Save the drawings from the CNC to a USB memory stick
Save and load CNC parameters to a USB memory stick and back to the unit (backup of the CNC unit)
Load new firmware into the CNC unit
The end user must supply a USB memory stick formatted in FAT or FAT32 (these are common formats). The smaller capacities are better — 4 or 8GB ideally.
Can I use another nesting software instead of FastCAM?
Yes, you can. Your desired nesting software has to export program files in ".TXT" or ".CNC" formats. THERMACUT® cannot support you if you have an issue with your cutting program.
If you cannot find the answer to your specific question, please call us or send email: